Guide
2023 Recruiting Effectiveness Planning Kit
Optimize Your Talent Acquisition Planning with Step-by-Step Worksheets
2022 was a challenging year for talent acquisition. And if this past year has showed us anything, it's that the labor market will continue its turbulence into 2023.
As recruiting teams work harder than ever to find, hire, and onboard qualified candidates in this highly competitive market, it's essential to find ways to optimize talent acquisition activities for the new year.
The 2023 Recruiting Effectiveness Planning Kit is filled with hands-on worksheets to help you improve your talent acquisition strategies, take stock of your current programs, and make data-driven plans to drive your talent acquisition strategy in 2023. Get your free copy today.
Get a Look Inside the 2023 Recruiting Effectiveness Planning Kit
The 2023 Recruiting Effectiveness Planning Kit features nine worksheets across all areas of the talent acquisition lifecycle that you can use together or separately to optimize talent acquisition programs for the coming year.
Plus, get the free 2023 HR Calendar featuring Federal Holidays, important dates and deadlines, and HR Conferences all throughout next year.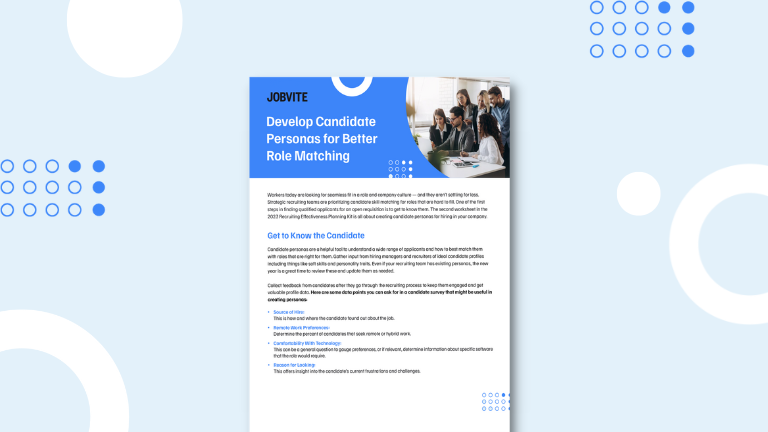 The 2023 Recruiting Effectiveness Planning Kit Includes:
Developing a data-driven recruiting strategy
Creating candidate personas for better role matching
Expanding talent networks with targeted audience planning
Building greater focus on DE&I into recruiting programs
Other critical focus areas for talent acquisition in 2023
2023 Full-Year HR Calendar as a bonus
Get your free copy of the planning kit today and take your talent acquisition programs to the next level in 2023.
The Power Of Our Collective Reach
0.9M+
Hires in the past 12 months
See the Evolve Suite in Action
Take the tour and see how our suite delivers results throughout every aspect of the candidate lifecycle.